If you have any questions, you can feel free to Contact Us.
If you are a home inspector who is required to be licensed by your state, it may be necessary to acquire continuing education credits to keep your license active. If you're looking for a convenient and affordable way to earn the CE credits you need, you've come to the right place! StateCE, a nationwide provider of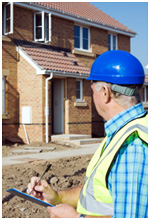 comprehensive continuing education courses in 10 different industries, offers a selection of state-specific home inspection CE courses that make it easy to remain in compliance with the licensing guidelines of your state.
CE Courses Covering Four Relevant Home Inspection Topics
StateCE offers continuing education programs in four different areas that comprise the multifaceted home inspection profession including:
Home Inspector
HVAC Systems
Real Estate Inspection
Report Form/Report Wiring
Our home inspection CE courses have been developed by industry experts who make it their focus to stay up-to-date on changes in the license renewal requirements in each state. Our programs are also certified by the appropriate state licensing organizations.
Flexible CE Programs That Meet Your Scheduling Needs
Many home inspectors are self-employed and are often required to work irregular schedules. Our online home inspection CE programs make it easy to incorporate learning into your hectic lifestyle. You'll have 24/7 access to the course materials; all you need is a Web-enabled computer equipped with Windows Internet Explorer 6, 7, 8 or 9, or one of the following Web browsers: Firefox 2 or 3, Opera 10, Safari or Google Chrome. Log in at home, while you're on the road and have time between inspections, or whenever and wherever works best for you. Printed course materials that can be sent via postal mail may also be available in some states.
An Independent Study Program Where You Set the Pace
Our self-study home inspection CE programs have been designed to give you total control over your learning experience. The easy, user-friendly interface facilitates the educational process and allows you to study at a pace that suits your unique learning style. You're free to repeat lessons and assignments as often as necessary to master the course materials. Once you have fulfilled all course requirements, you will have access to a printable certificate of completion if this is permitted by your state. We also offer next-day turnaround for the submission of earned credits to the appropriate state licensing authority.
Serving the CE Industry Since 2001
Since our inception in 2001, StateCE has served the continuing education needs of more than 100,000 customers all across the United States. Our principals have compiled a combined total of more than 50 years of relevant CE industry experience. We're committed to providing the best customer support in the industry; we offer a variety of contact methods that make it easy to reach us with questions or concerns, and you will always receive a prompt and reliable response. Our one-of-a-kind 100% Price Match Guarantee is our promise that we will always offer the lowest price for your home inspection CE program.
You Don't Have to Wait to Get Started!
You don't have to wait for a specific enrollment period to begin earning your home inspection CE credits; our affordable and user-friendly home inspection CE programs are available right now! To get started, give us a call today at 877-603-4073, Register for a New Account, or Browse our Course Catalog.