Tow Operator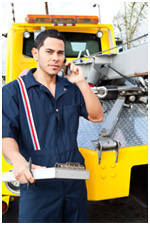 Does your state require licensing in order to operate a towing service? Are you looking for a cost-effective and time-efficient way to fulfill the continuing education requirements that may be necessary for license renewal? If so, StateCE has just what you need! We're a nationwide provider of affordable state-specific CE programs in 10 different trades and professions, including towing.
Courses Available for a Variety of Towing License Types
Depending on your state, we offer the opportunity to earn continuing education credits for renewal of a wide range of towing license types. Examples include:
Consent Tow
Incident Management
Private Property
Multiple Lines
Courses focus on key areas such as operator rules and safety. All courses are written by subject matter experts who have extensive knowledge of the licensing requirements of your state. Our courses have also been certified by the proper state licensing bodies.
Study at a Time and Place That Works Best for You
We make our towing CE course materials available online for your convenience. Use your Web-enabled computer equipped with Internet Explorer 6, 7, 8 or 9, or Firefox 2 or 3, Opera 10, Safari or Google Chrome to log in whenever and wherever works best for you. This makes it so easy to fit learning into your lifestyle without interfering with work and family obligations. You won't have to waste valuable time traveling to a brick-and-mortar classroom, because we bring the classroom to you! Depending on your state, printed course materials may also be available on a mail order basis.
Take Control of Your Learning Experience
By learning via self-study, you can effectively manage your learning experience. You'll have total control over the pace of your studies, allowing you to repeat lessons and practice as often as you wish. Our program's user-friendly interface makes it easy to access and follow the course materials. Upon successfully meeting the course requirements, you will be able to print a certificate of completion if this is allowed by your state. We will also submit your CE credits to your state licensing authority by the end of the next business day.
More Than 50 Years of Combined CE Industry Experience
As a StateCE customer, you will benefit from more than 50 years of combined continuing education industry experience our principals bring to the development and implementation of our products and services. Since our inception in 2001, we have helped more than 100,000 individuals just like you remain in compliance with all pertinent state licensing renewal guidelines. We take pride in our ability to offer the lowest-priced CE courses available anywhere, as evidenced by our exclusive 100% Price Match Guarantee.
To ensure the best possible user experience, we back our programs with the best customer support you'll find anywhere in the CE industry. Perhaps that's why so many of our customers make StateCE their one-stop source for all of their continuing education needs.
Our On-Demand Towing Courses Are Available Right Now!
To learn more about the towing CE courses available in your state, including pricing information, we invite you to take a few minutes to browse the individual course descriptions. You can get started on your towing CE course right away, without having to wait for a designated enrollment period. You can register by calling 877-603-4073, Register for a New Account, or Browse our Course Catalog.