According to the United States Census Bureau, Generation Y has 83.1 million members and makes up more than 25 percent of America's overall population.  In its 2014 study, "Home Buyer and Seller Generational Trends," the National Association of Realtors reported that this demographic group is responsible for 76 percent of first-time home purchases in the United States.
Born between 1982 and 2000, millennials are more than a sizable consumer group. They represent a deep pool of potential employees for mortgage companies. Of course, it doesn't matter how big the pool of prospective employees is if mortgage companies cannot successfully attract millennials to work in the mortgage origination industry.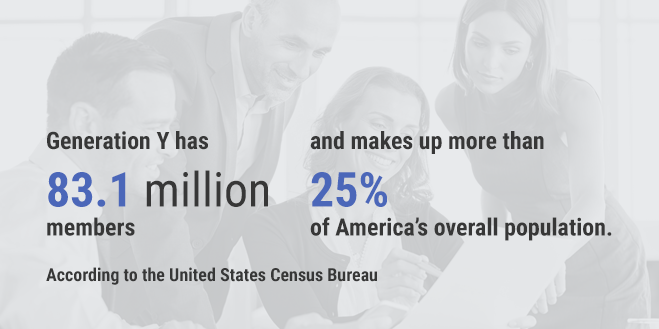 The challenge facing the mortgage industry is figuring out how it can add capable staff members to its current aging workforce in time to satisfy the existing and future demands of millennials and other consumers. With Generation Y accounting for such a large portion of the country's population, recruiting millennials to pursue careers as loan originators can help the industry prevent a shortage of mortgage professionals from occurring in the future.
Characteristics of Millennials
In order to attract millennials to work for your mortgage company, you have to understand and appreciate some of the characteristics that define Generation Y and distinguish its members from previous generations. Being familiar with millennials' unique habits and desires will enable you to create a work environment that allows members of multiple generations to work effectively together.
As a general rule, millennials are more tech-savvy and educated compared to the members of any other generational group, including their immediate predecessors, Generation Xers. Most millenials were exposed to technology before they were enrolled in kindergarten. In addition to having a strong work ethic, millennials have high expectations for not just themselves, but for their employers as well.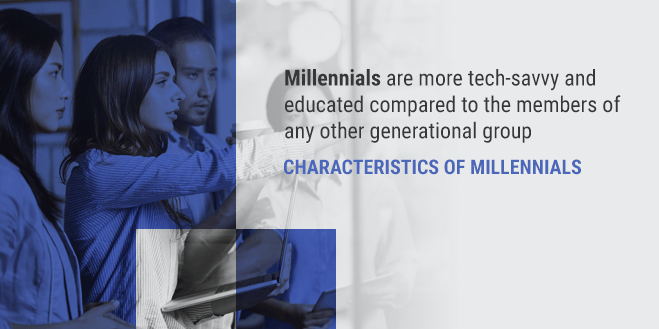 Members of Generation Y expect their employers to provide them with meaningful work that makes a difference in the world at-large or in the lives of individual people in particular. They enjoy performing work that is necessary to achieve a bigger goal.
Millennials are team-oriented, but they have an entrepreneurial spirit that they are happy to tap into for the benefit of their employers. Given their life-long reliance on technology, Gen Yers are used to getting things, such as access to information, much faster than the members of other generations.
Millennials constantly look for ways to do things better and faster and are eager to share their observations and suggestions with their employers. Gen Yers enjoy learning new things through mentoring and training. They also look forward to receiving feedback on their performance. Millennials firmly believe that when it comes to compensation, they should be financially rewarded for their achievements rather than for their tenure with a given employer as well.
Even though millennials recognize the importance of family, friends and maintaining a work-life balance, they often use technology to discuss topics with others that members of previous generations would prefer to talk about in a face-to-face meeting. For instance, a typical millennial would be comfortable discussing a loan application over the phone or using an internet-based platform such as Skype, whereas older members of the population would require a sit-down meeting to share their sensitive financial information.
Sourcing Millennials
Even if you know every characteristic associated with Generation Y, your knowledge will not help you hire millennials if you do not know where to find them. Despite making up more than a quarter of the American population, Millennials do not have a proportional presence in the mortgage industry for a host of reasons, including the collapse of the real estate market in 2008. Recruiting them to work for your company can be a challenge because finding them is not as simple as using your Rolodex to reach out to people already in the industry.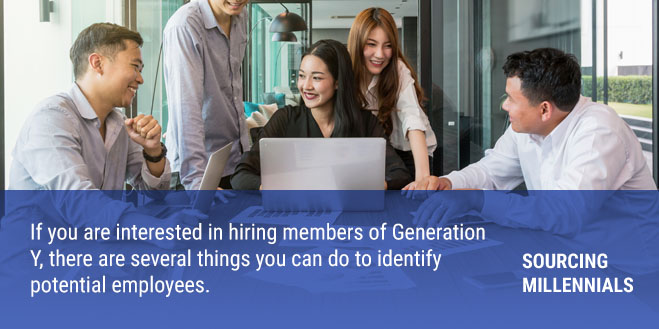 If you are interested in hiring members of Generation Y, here are several things you can do to identify potential employees:
Tap Your Network: Just because your business or social circle doesn't include Gen Yers, it doesn't mean the people you interact with regularly don't know a millennial or two. Your contacts might be the parents of millennials, for instance. Your hairdresser may provide styling services to millennials. A former employer of yours might have had talented Gen Yers on the payroll in the recent past, too.
Ask your employees, coworkers, friends, family members, and the other people you trust if they know of a Gen Yer looking for work or a change of employment. Do not make previous sales experience a requirement for referrals. You can teach someone how to generate mortgage leads after you hire the individual.
Use Your Database: Your database of former clients can be a good resource for finding millennials.  While you may not have helped a Gen Yer secure a mortgage directly, it is likely you have helped someone they know purchase or refinance a home. You may have even helped their own parents buy a house! Reach out to your past clients to let them know you are trying to add staff members to your ranks. Ask them to share the contact information they have for any millennial who might be interested in becoming a successful mortgage loan officer at your company.
Look at Non-Competing Industries: Since millennials have pursued work in industries other than the mortgage loan industry more often than not, you have the opportunity to use other industries to find prospective employees. There is a myriad of non-competing industries that employ a skill set similar to what is required to be a successful mortgage loan officer.
People in management positions in the hospitality industry are typically used to selling rooms, event space, meals, and other products to patrons. Their sales experience can help them to succeed as a mortgage loan originator. Managers who arrange financing for people interested in purchasing a vehicle from a dealership also have skills that will be valuable if they choose to transition to the mortgage industry.
Visit College Campuses: Colleges and universities across the nation are currently educating millennials who will eventually join the nation's workforce. There are many majors, such as concentrations in finance and business, involving the acquisition of skills and knowledge that will transfer well into the mortgage industry.
You can introduce your industry and business to students who might not have considered a career in the mortgage industry by visiting campuses on career days. Establishing relationships with professors who teach courses involving skills that would be useful to a successful mortgage loan officer can create pipelines for referrals, too.
Attracting Millennials
In general, a variety of factors influences a Gen Yer's decision to work for one company instead of another. These factors typically include a company's overall goal or purpose, whether the business offers continuing educational or mentoring opportunities, and a company's willingness to recognize the individual achievements of its employees.  By ensuring your workplace has desirable systems in place and begun marketing them to prospective employees, you can greatly increase the likelihood that Gen Yers will want to work for your company.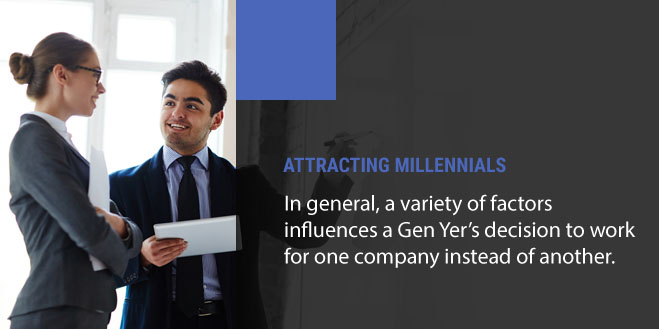 To make your company even more attractive to millennials, consider doing the following:
Explain Your Company's Purpose: Millennials want to know the work they perform is meaningful and contributes to a goal that is bigger than simply earning a paycheck or increasing their employer's bottom line. Make your company's mission known in your community by marketing it to your clients, employees, and prospects.
When you meet with a Gen Yer, you are trying to recruit to join your team, explain your company's goal in detail. Explain how your goal is to help people afford the home of their dreams. Take the time to explain how the millienial can personally change people's lives for the better by joining your team as well.
Establish a Formal Training Program: Gen Yers crave knowledge and seek out learning opportunities.  By establishing a formal training program in your company, you cannot only satisfy millennials' desire for knowledge, but you can also teach them what they will need to know to become a successful mortgage loan officer.
Your training program should address compliance issues, including the use of social media to market loan packages, proper disclosures, loan processing, and lead generation, among other topics. Your program should also discuss the continuing education credits mortgage loan officers need to acquire throughout their careers. Introduce your employees to resources such as StateCE (continuing education) that will enable them to complete the courses they'll need to take as they move forward.
Implement a Mentoring Program: A mentoring program is an effective way to reinforce the theoretical topics new hires learn in training. A mentoring program also gives millennials the chance to apply their newly acquired knowledge through practical experience under the watchful eye of a seasoned, encouraging professional.
Some mentoring and training programs require new hires to work as an assistant for a more experienced loan originator. In this type of scenario, a millennial is paired with a successful mortgage loan officer who teaches the new hire how to handle every step of the loan process through hands-on training that occurs over a period of time, typically several years.
At the end of the program, a millennial should be able to generate leads and process loans. The education and experience the millennial acquired during your mentoring and training programs should have prepared him or her to secure the licensure needed to process loans on his or her own.
Set up a System for Feedback: Millennials are used to getting results quickly. For example, when they perform a search on the internet, they have the information they're looking for almost instantly. When they want to buy something, their purchase is only a few clicks away. If they want to play the latest game online, they can download the game and start playing within minutes.
Given that they are so used to having things at their immediate disposal, millennials are not used to having to wait a year to receive feedback on their performance during a traditional annual review. To satisfy their need for near-instantaneous information, create a system that will regularly and frequently provide Gen Yers with feedback they can use to improve their performance on the job.
Your system should provide Gen Yers with regular opportunities to provide feedback to their mentors and managers as well. Since they are constantly looking for ways to do things better and faster, millennials are generally eager to share their thoughts about improvements that might make their work environments more efficient. They are typically just as eager to help implement the suggestions they make as well.
Create a System to Recognize Achievements: As a whole, millennials feel they deserve to be recognized for their professional achievements. While the mortgage loan industry has typically paid loan originators on a commission basis, which inherently rewards individual sales achievements, there are other ways to recognize achievements proving more meaningful to some.
Sending an email to all of your employees congratulating someone for their contribution toward reaching your company's monthly sales goal is an alternative way to recognize someone's outstanding work. Letting a millennial who has done something notable have your parking spot or drive your car for a day are other ways to acknowledge the person's achievement.
In its white paper, "Understanding Generation Y, What You Need to Know about the Millennials," PrincetonOne reports that volunteerism among millennials has increased considerably and that volunteerism in the 16-19 and 20-24 age brackets has doubled in recent years.
That trend coupled with millennials' desire to contribute to a meaningful purpose gives you the chance to not only reward someone's hard work, but also to generate goodwill for your company by recognizing a Gen Yer's efforts with a charitable donation.
Bridging the Age Gap in the Mortgage Industry
Given the size of their generation, millennials truly can be the next generation mortgage loan officers who will help the consumers of all ages fulfill their dreams of owning a home. The mortgage industry has to attract new, younger professionals to its ranks by offering programs, systems and incentives that are desirable to members of this tech-savvy demographic group.

Overall, Gen Yers want to learn, contribute, and be part of a team. They want to know their thoughts regarding making improvements to a work environment or streamlining a process are heard by management and are taken seriously. They want to be part of the solution to a problem as well, making them great candidates to work in an industry that requires people to overcome challenges regularly.
Getting to know what motivates and interests millennials will prepare you to make your company more attractive to them. Establishing systems that give them what they want and demand — training, mentoring, recognition, and purpose — will not only increase the likelihood that they will join your company, but it will also increase the chances that they will stay on your payroll for a longer period of time.
Tailoring your work environment to accommodate millennials will help your company continue to serve Gen Yers in the manner they've come to expect. It will have the added benefit of positioning millennials to work together with members of other generations through your training and mentoring programs. Finally, it will give every millennial you hire the chance to grow into a successful mortgage loan officer in a team environment that recognizes individual accomplishments.